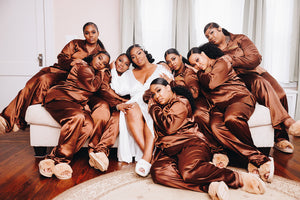 What are the steps for a customized bridal Robe?
Consultation:
At W-Legacy Designs , we prioritize capturing your vision and preferences for your custom bridal robe. Our consultation process includes a comprehensive and personalized conversation to gather all necessary information of your vision.
Design :
Upon finalizing design during the consultation a 40 percent deposit is required to start the process. Once the deposit is received the robe will go into production. Brides are required to get their measurements professionally taken. W-Legacy Designs will not be held responsible for inaccurate measurements.
Production takes 3-6 weeks to complete. A rush order can be completed in 2-3 weeks.
Delivery:
Once your custom bridal robe is completed, our team will send you an email for approval of the robe. If there are any changes requested, we will happily make them and send them back for your approval. Upon approval your robe will be shipped 2-3 days after. 
*Please note all customized robes are nonrefundable after deposit has been submitted.*