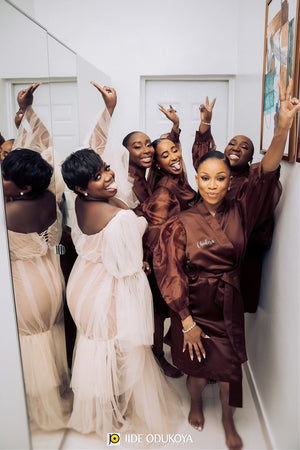 How long does it take to ship a robe?
Typically, the process time for a bridal robe order can range from 5-7 business days.
Can you customize a robe ?
Yes you are able to customize a robe to your liking and exact measurements. Please follow the instructions for bridal robe customization. We will schedule an appointment to discuss your vision. 
Where are you located/Where do you ship from?
We are located in the DMV and all shipments will be made from our showroom in Maryland. 
Could you have my order RUSHED?
Depending on the stock availability for the selected robe, we can arrange for expedited orders. Contact us to let us know your request, and we will make every effort to have the item shipped out as soon as possible. Please note that there will be an additional rush fee, which is separate from your shipping fee. This fee only accelerates the processing time to have the item ready for immediate shipment. To ensure fast delivery, please choose an express shipping option.
Do you offer International Shipping?
International shipping is available. Shipping time will range from 7-14 days depending on the shipping method selected. Please note that shipping may take longer due to customs regulations and delays.
What if I receive my robe and it doesnt fit?
Please reach out to us immediately and we will do our best to assist you in troubleshooting. We pride ourselves in providing the highest quality of service.